WELCOME TO
SALINAS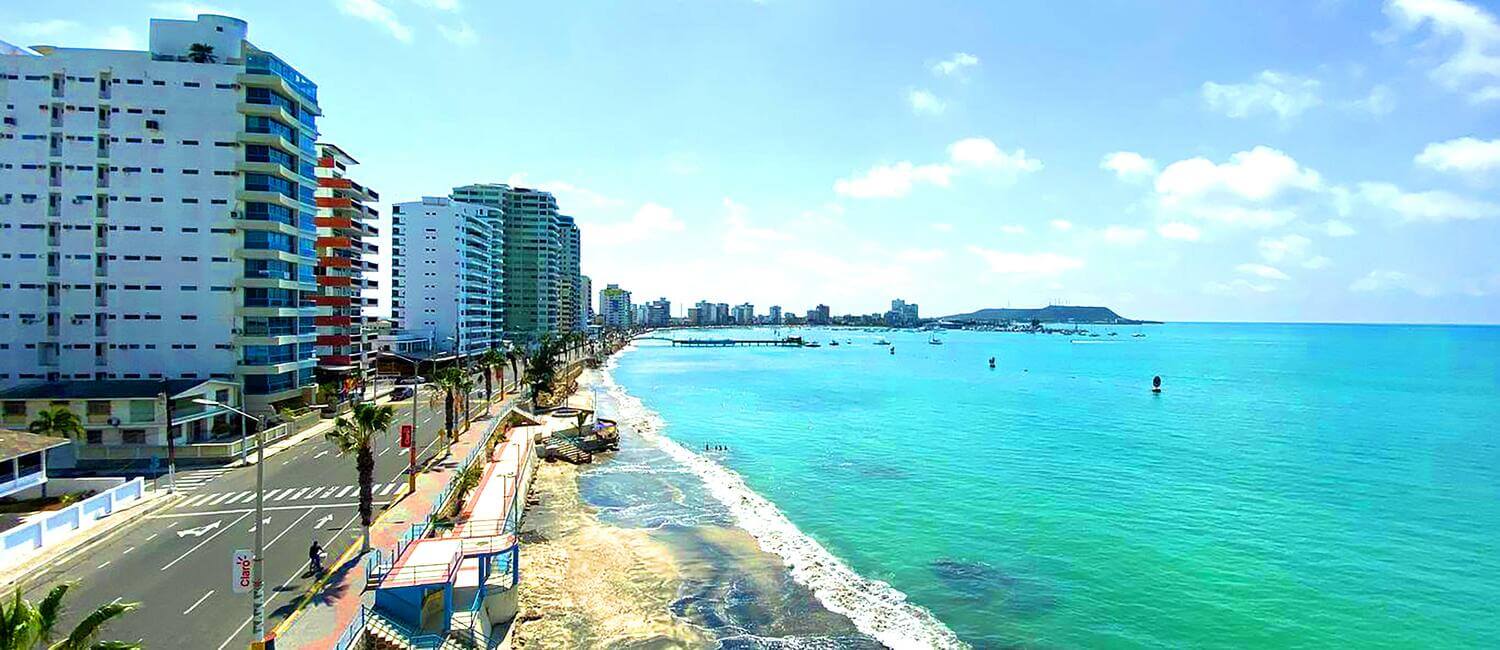 Discover Salinas's hot spots
Salinas has a lot to offer.
Salinas's gastronomy is one of the most delicious in the world. Its own home flavors, grandmother's recipes, trends and fusions, make the dishes go beyond the famous rogue nickname, "ceviche", "encocados" and delicious drinks. Nowadays in the city you can enjoy in thematic restaurants, a great variety of flavors, satisfying the most demanding and fine palates.
When participating in L'Etape Ecuador, you'll enjoy the beautiful bech, center of Cuenca and its surrounding mountains.
The city of Cuenca is located at 2,538 meters above sea level with temperatures ranging between 14ºC and 18ºC, throughout the year. The valley in which it is located is determined by mountain systems of exceptional characteristics and presents a hydrographic system made up of four main rivers: Tomebamba, Yanuncay, Machángara and Tarqui that cross the city from west to east. Its inhabitants are the best hosts because every day they work for the rescue and enhancement of the customs and traditions of the city's neighborhoods, nature as a source of inspiration and relaxation, rurality as a new point of visit, and other characteristics. that make Cuenca attractive to new travel and leisure trends
You'll ride in a
CLOUDY AND SUNNY DAY
A GLIMPSE

OF SALINAS

In Salinas we highly recommend you to spend time in the "La Lobería", "La Chocolatera" and Chipipe beach
GENERAL INFORMATION
Salinas, Santa Elena).- Salinas, en la provincia de Santa Elena, es considerada como uno de los balnearios más importantes del Ecuador. Esta localidad nos ofrece una variedad de paisajes, deliciosa gastronomía y espacios para disfrutar del sol y la playa. Todo enmarcado en la 'nueva normalidad' que nos conlleva a disfrutar de los atractivos turísticos en medio de rigurosos protocolos de bioseguridad.
En este destino costero resulta imperdible disfrutar de un paseo por la bahía, en un recorrido panorámico a bordo de embarcaciones turísticas que parten desde el muelle ubicado en la playa de San Lorenzo. El recorrido permite recrearse en las tranquilas aguas azules de este balneario, admirar las aves y sorprenderse con los altos edificios que se pueden observar desde el mar.
Aunque la ciudad es conocida por sus hermosas playas, también tiene espacios para mantener un contacto directo con la naturaleza. Uno de los lugares recomendados, por ejemplo, es el humedal de Ecuasal. Se trata de un área que alberga a más de 100 especies de aves marinas y playeras. Las características particulares de este lugar lo convierten en el sitio preferido para los viajeros y aventureros que busca admirar la naturaleza.
La playa de Mar Bravo, aunque no es una zona permitida para bañarse (debido a su fuerte oleaje), es el sitio idóneo para admirar increíbles puestas de sol. Y es que las tardes se vuelven románticas en este sector desde donde se puede admirar un cielo despejado y la intensidad de los colores con que se tiñe el firmamento. Este espacio es propicio para realizar hermosas fotográficas.
En el tema gastronómico, Salinas nos ofrece una amplia gama de sabores que son elaborados a base de frutos recolectados en el mar, como camarones, pulpos, conchas, pescados, que mezclados con diversas especias y vegetales se convierten en los mejores manjares del país.
Salinas, "el Paraíso Azul del Pacífico Sur", es un sitio privilegiado de la costa ecuatoriana que nos invita a visitarla para disfrutar entre hermosas playas y maravillosos paisajes marinos que se complementan con la calidez de su gente hospitalaria y su variada oferta gastronómica.